An Update on Watson: Fashion Victim
Sep 29, 2009 Author: Erin | Filed under:
Kitten
Tags:
watson
,
cat
,
sick
,
fip
,
uggs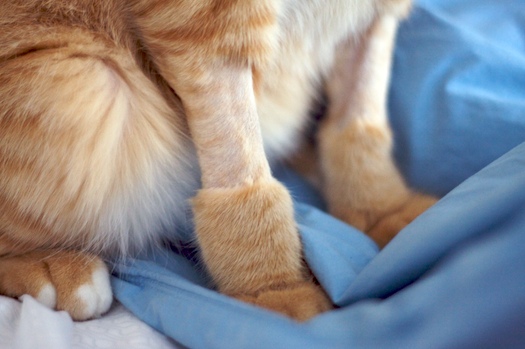 I've been waiting for Watson's test results to come back before I posted another update but that seems to be taking forever and a day so I just wanted to let you all know that Watson is doing amazingly well. Right now he's in his usual energetic and heated morning battle with Dexter. Every day since we brought him home he's only become stronger. He's eating and drinking like a champ and completely spoiled with extra tuna and freshly roasted chicken meals. It seems to be one of the few ways I can "trick" him into taking his antibiotics that doesn't involve torturing him unnecessarily.
I really don't know what to think. Essentially we were sent home from the hospital thinking that he was going to literally die any second. Most cats diagnosed with FIP only live an average of 9 days. We can't seem to find anything in the literature about your cat coming home and completely recovering and then passing away, but I guess time and test results will tell. In the meantime we're thoroughly enjoying having our kitten back to his old energetic and adorable self.
On Friday Chris and I are taking Watson to his normal vet, whom we just love, and we'll get his stitches out and talk to her about any test results we receive this week. Frankly you wouldn't even know anything has happened to Watson with the exception of his shaved neck and legs. Amusingly enough both of his front legs were shaved half-way up the leg to accommodate his IV. It makes him look like he's wearing Uggs. Poor Watson…now he's a fashion victim too. Please keep those kitty prayers coming! xoxo, Erin