Dec 19, 2010 Author: Erin | Filed under:
Crafty
,
Holidays
Tags:
christmas
,
cinnamon stick
,
crafts
,
ornament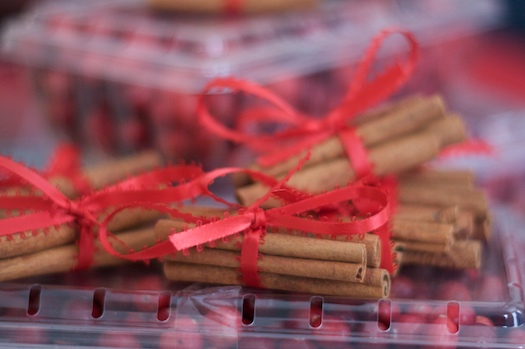 I'm not handling the holidays very well this year. We have a pretty tree, stockings, gifts and unfortunately I don't feel a drop of Christmas spirit. I'm hoping it will miraculously appear on Thursday at noon when my office officially closes until the new year. We'll see. In the meantime I'm trying to force myself to feel EXCITED. Operation "Finding My Inner Christmas Queen" began today with a simple little craft that I found in Real Simple.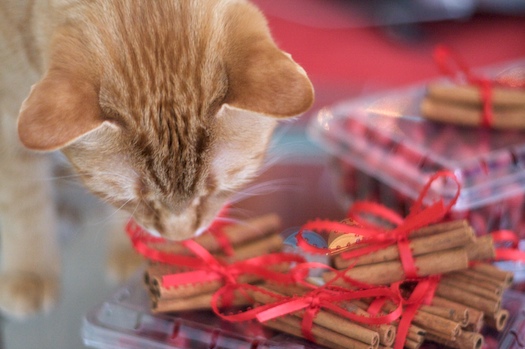 I originally wanted to have a themed tree this year, and in typical delusional-Erin-fashion, I thought I was going to string popcorn and cranberries and then festoon the tree with oodles of cinnamon stick ornaments, but that didn't happen. Of course, before I decided that was way too much work and that I'd just use my usual hodgepodge of wacky mismatched ornaments, I had already purchased several feet of skinny red ribbon and a pound of cinnamon sticks.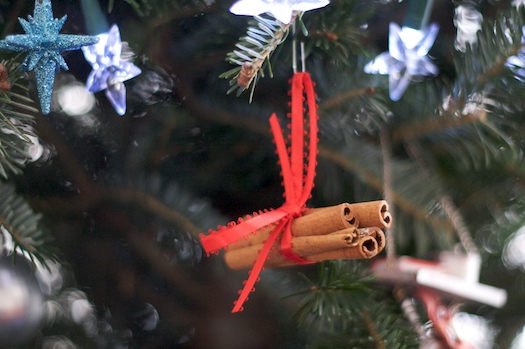 In the end I figured I might as well try making a few. At first I used some clear craft glue to hold the cinnamon sticks together before tying them with ribbon, but then I realized that the bundles held just fine simply with a firmly secured bow. The living room smelled amazing while I made about a dozen of the cute little crafts. Then I hung them on the tree with hooks and felt accomplished. I'm thinking that next year I might make more and tie them with a variety of colored ribbons. What do you think? By the way, the cranberries in the picture are part of another craft I'm going to attempt later this week. Wish me luck!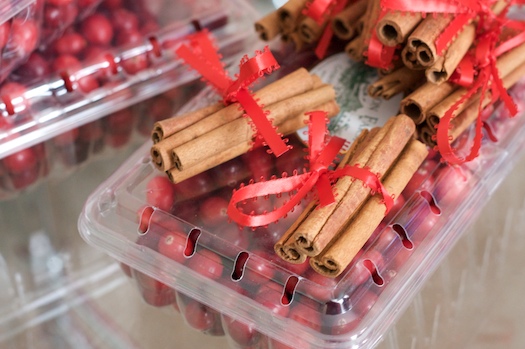 Dec 13, 2009 Author: Erin | Filed under:
Crafty
,
Holidays
Tags:
christmas
,
felt
,
lights
,
ornaments
,
tree
,
wall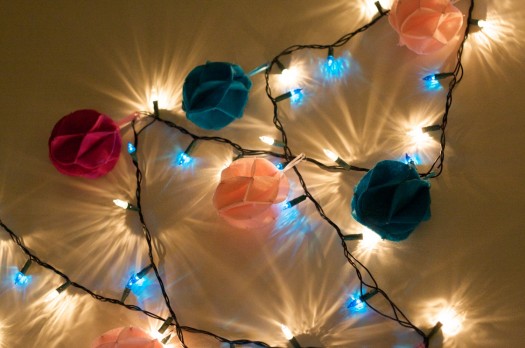 The kittens decided that our little Christmas Tree was the best thing since sliced bread. It lasted in our living room for all of 6 hours before Chris woke in the middle of the night to a number of suspicious sounds and found all 12 pounds of Dexter precariously perched in the top branches.  Now the traditional tree is in our bedroom and I never see it. To compensate for my sad Christmas Tree-less living room I decided to fashion a faux tree on the wall with lights and then hang all off the felt ornaments that I made this year on it. I realize that the whole thing is beyond tacky but at least I have some semblance of a tree to look at, and thankfully the kittens don't bother it at all.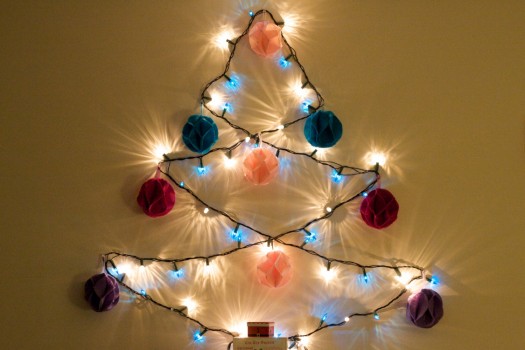 Nov 22, 2009 Author: Erin | Filed under:
Crafty
Tags:
christmas
,
diy
,
ornaments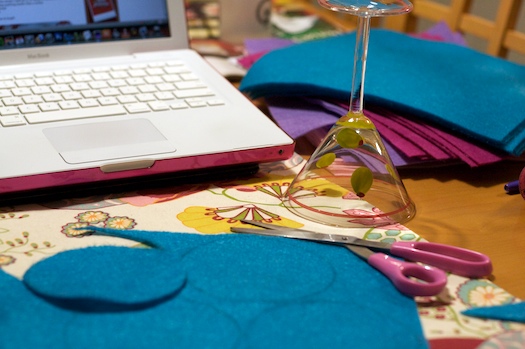 I will happily bake and cook my little heart out but I find it next to impossible to get into traditional crafts. I'm a failed knitter, embroiderer, and decoupager. But when I stumbled upon these adorable Felt Christmas Ornaments the DIY bug somehow thoroughly infected me yet again.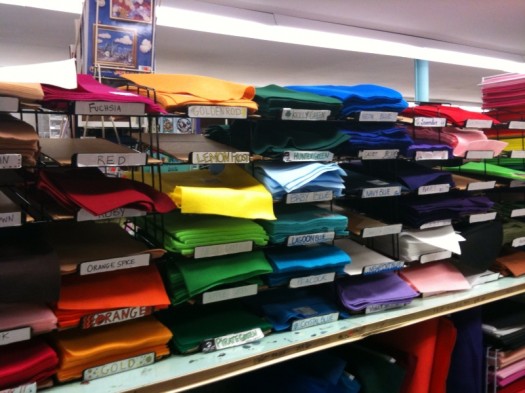 After consulting the craftiest person I know on where to buy felt I took a little trip to Play Time Crafts in Arlington. The store itself was on the same mess level as Old Navy gets during a Black Friday sale but they had absolutely everything you could possibly want from stamps, to beads, oodles of ribbon, party supplies, and a rainbow array of felt. Instead of traditional Christmas colors I chose turquoise, magenta, lavender, and pink for my ornaments and then found several spools of matching ribbon.
This evening I attempted to sew my first ornament. It took me a little over an hour. I ended up having to use a martini glass to trace circles onto the felt. The finished product is a bit lopsided and you can unfortunately see all of my stitches but all-in-all I'm pretty proud of myself. However, I think it looks fairly good since I've been known to send shirts to the dry cleaner if I need a button sewed on.
Tomorrow my friend Kristen is going to give me some pointers on how to polish the craft project. Hopefully the next one will be a tad more attractive. At this rate though it will probably take me until Christmas to finish the 12 ornaments I'm hoping to make, but I'm determined to finish every single shabby one.