Oct 10, 2008 Author: Erin | Filed under:
Pink Links
,
Shopaholic
Tags:
clothes
,
food
,
jewelry
,
pink-link
,
shoes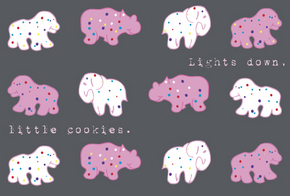 Literally mere moments ago I frantically pulled out my wallet and ordered this adorable tee that pays homage to the unfortunate demise of Mother's Original Circus Animal Cookies this week. Doesn't that slogan make you feel a little weepie? Hold on I need a tissue… [link via Slashfood].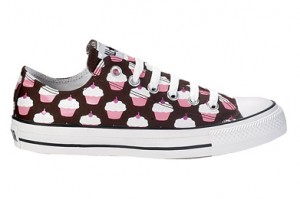 A cute cookie tee undoubtedly needs a pair of pretty funky shoes to match so when Rachel tweeted about these hot cupcake sneakers today it occurred to me that perhaps the pink culinary clothing inspired stars have aligned this afternoon.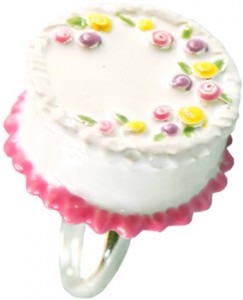 And just because the hypothetical ensemble I'm creating in my mind isn't over the top enough, might I suggest some Birthday Cake bling? My grandmother used to decorate a strawberry birthday cake for me each year in almost exactly this very style, sans the yellow of course.
Oct 2, 2008 Author: Erin | Filed under:
Pink Links
Tags:
cars
,
pink-link
,
satc
My ultimate vehicular goal in life is to own a Mini Cooper. Since I live in a city where I drive exactly three times a month, usually to Whole Foods and back, I obviously do not need an adorable car of this caliber. But I dream about it. I dream about it constantly. A few weeks ago Julia Allison posted a photograph of an adorable bubble gum pink convertible mini that she came across on a London street. While I do heartily protest all forms of racing stripes I certainly wouldn't pass up an opportunity to own such a lovely possession. I think I'd probably have to change my hair color back to blonde again though.
Just in case I wanted to go a little more upscale and channel my inner Mario Andretti there appears to be a pretty in pink Audi R-8 making the rounds. How long do you think it will be until Paris Hilton gets a DUI in that gorgeous machine?
Someday when do I have my obnoxious pink car I'll totally have to make sure that it's outfitted with lots of garish pink accessories. As I have a notoriously horrible sense of direction my very first purchase might just have to be this Pink Garmin GPS. Although, it should be noted that TomTom just released Kim Cattrall as a navigational voice option. It's really such a tough choice.